Dream Wallet is integrated educational service that provides basic financial concept and economical education to the elementary children. In addition, the service provides around school area. Depending on financial and economic education level of background, it will define the individual level of education knowledge, social interactive life and cultural perspective from elementary school. However, it will be challenging to send message or educate these basic concept to elementary. The Service provides according to level knowledge from elementary students and interaction around the individual environment. The program focuses primary on elementary students, and by educating individually, children will able to get equal opportunity education.

Scope
Service Design
Members (AtoZ) 
Jang Eun Kyeong
Kim Hyo Young
Kim Hyung Kyoon
Personal Project
2014
PROBLEM STATEMENT
SYSTEM MAP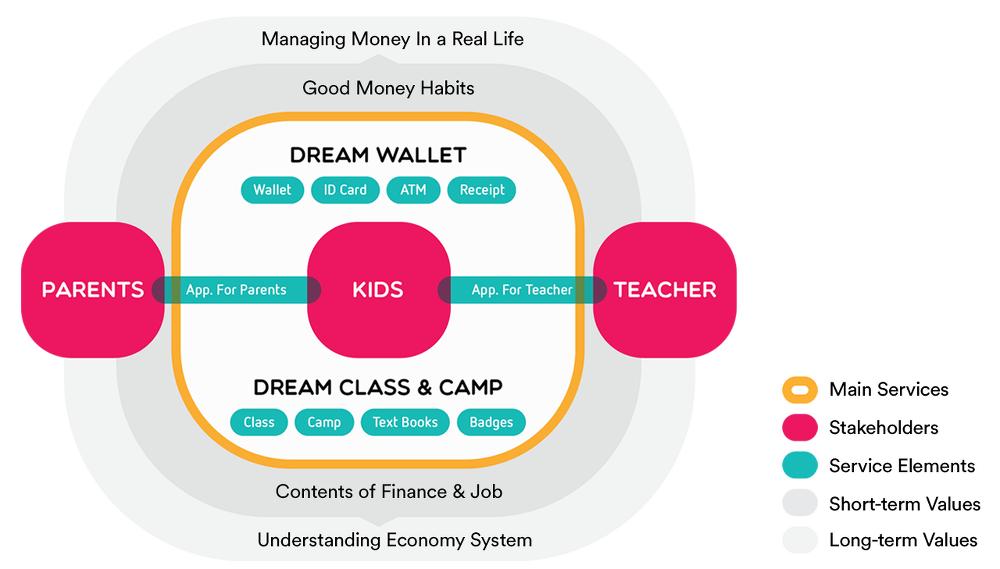 Dream Wallet strives to encourage elementary students to shape their economic concept and to make an environment for building good saving habits. This service provides students a money management education according to their growth and development. Then they will be able to plan their finance and manage money in an active way. Also they can take classes about basic concepts of money on campus. On top of that, they can access to bank anytime with Dream Wallet and ID card through ATMs at school. Elementary children's activity in service will be reported to parents' app and teacher's app, so parents and teacher can give feedback and encourage children to have good saving habits.

SERVICE SCENARIO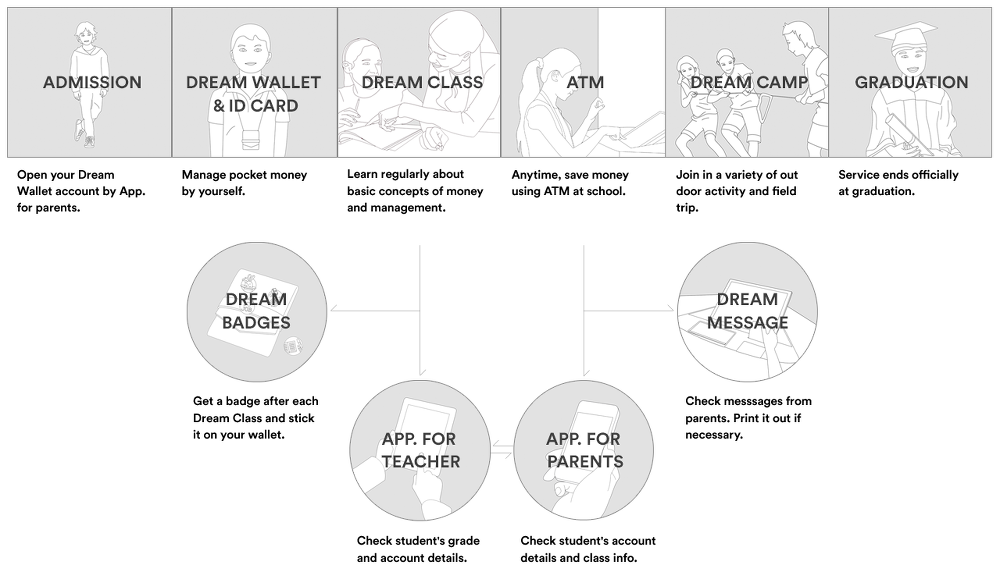 STARTER KITS

Dream wallet starts with a student's own choice. When he gets into the school, the parents can register their child's account through app. Student can choose his/her favorite color and receive their wallet and ID card. The wallet has two separate sectors: saving and checking. ID card's setting focuses on savings when student is in the lower grades, and as student becomes higher grader, they get access to checking account. By using ATM through an ID card, students can access to their own account and use various menus provided on ATM screen.

[A] ID Card



With ID card, children can access to their account in ATM. The function of withdrawal and paying is provided for higher grade students. Children can choose whatever card colors they like, so they are proud of their ownership of their own cards.

[B] Dream Wallet
Students can always carry Dream Wallet easily and manage money in daily lives. It makes them learn basic money management of separation between save part and spend part. In addition, students can show their characteristics by choosing colors, inscribed name and badges from Dream Wallet.

PROGRAM & CURRICULUM
The education in the school curriculum is based on student's development. Whenever a student completes a class, he is rewarded with a class reward badge. This badge can be attached onto wallet and this will make positive competition between students. Teachers will input the information and achievements of education and parents can check them through app. Also, they can communicate each other with notices and messenger.

[A] Textbook

[B] Dream Badge



[C] Dream Class



[D] Dream Camp

DREAM ATM

Dream ATM is installed within school provides high accessibility to the students so that students can save their money anytime. ATM display is modified with direct touch system where students can easily understand and utilize. ATM can be accessed by students' cards and the information gathered by the ATM can be monitored by parents through app.

Dream wallet provides an integrated education to the students. This system is suitably designed to children's emotions and cognitive developmental stages of children which is easily accessible. Also, with the interaction with surrounding background, it helps students to take an active part in selection. Students would consider this service as a game that they will be endowed with a progressive spirit. This will eventually lead students to pursue their goals in the future.




Existing ATM is made for average adult's height, so it is an obstacle to elementary students getting access to ATM. However, Dream ATM is a three-stage ATM. Three leveled designed ATM is accessible to each grades different heights. Students can access their right stage, which is suitable for their height.

According to their grades, there are differences in service area. For lower grades, saving money is an only option. Once students become higher grades, more functions will be available such as withdrawal.



Touching the Message Box menu, students can check the message from their parents' app. Parents can send messages to their children and these messages will appear on ATM receipt. The message creates communication between parents and students even on campus.

APP

WHY ITS WORTH IT
Self-sustaining
Through Dream Wallet, children get ability to plan their money usage and future dream by themselves.
Communication
Dream Wallet encourages communication between parents, teacher and children to enhance educational achievement.

Expanding Experience
Dream Wallet's phased activities provide children diversified experiences to broaden vision.